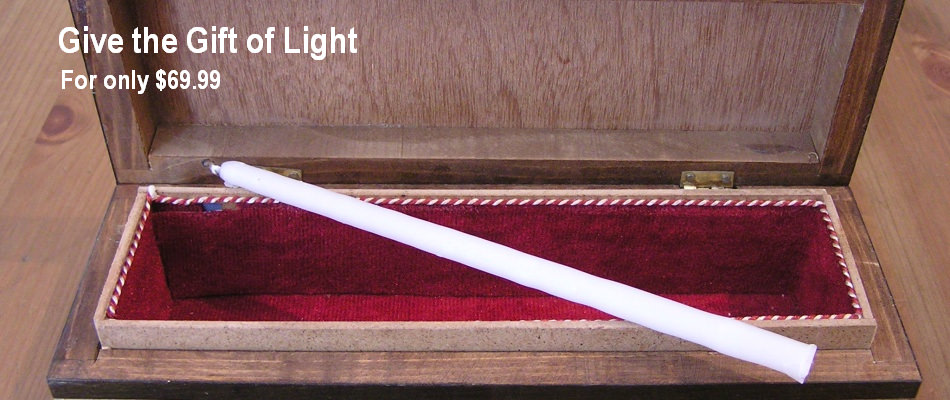 Give the gift of light
We come before the Lord not only for ourselves but for those who are dear to us and for the others who needs to be prayed for. Our fellow Christians need help through our prayers too and we can definitely be of service by addressing their need to the One who can provide for their physical and spiritual necessities.

In a very special and meaningful service, a candle will be lighted on your behalf as a gift to your loved one or a friend.

We have then committed ourselves to do this solemn task for you. The below gallery shows exactly how we do that
---
For only $69.99:
* Your lighted candle along with your prayer intention will be placed on
the Stone of Anointing.

* After which your candle's light will be blown off and it will be placed in
a special olive wooden box.

* A certificate with your name or the name of the person for whom your
offering is being dedicated will be delivered from Jerusalem to your
specified address along with the special box.

Your prayer offering may be for a special intention or thanksgiving for this person you wish to pray for.
​
---
In the spirit of community prayer you have heeded God's call for us to be our "brother's keeper." Blessings are sent forth to this person's life through our fervent prayer and offering. It is indeed a wonderful gift for a special family or for special occasions. This offering will also benefit our less fortunate brothers and sisters in the Holy City as they will receive part of the amount that you paid for your candle.